We Believe in Quality Garage Floor Coating in Wisconsin
Line your garage floor with the sturdiest garage floor coating in Wisconsin. Garage Force's polyurea garage floor coating ensures your floor looks good and stays protected.
GARAGE FORCE OF EAU CLAIRE
GARAGE FORCE OF GREEN BAY
GARAGE FORCE OF LA CROSSE
GARAGE FORCE OF MADISON
GARAGE FORCE OF NORTH CENTRAL WISCONSIN
GARAGE FORCE OF OAK CREEK
GARAGE FORCE OF THE FOX CITIES
GARAGE FORCE OF WAUKESHA
A Cozy Getaway From Wisconsin's Snowy Winters

As one of the coldest states in the United States, living in Wisconsin requires a cozy spot away from its snowy winters. Even if just a snug place for your car to rest, your Wisconsin garage can be a nice place of comfort. A great way to start transforming your space into a warm and welcoming one is with a premium polyurea garage floor coating.
Focused on renovating the driveway instead? Have a pool deck that needs a bit of a makeover? The good news is our coating is perfect for just that – anywhere you have concrete! Our service also comes with a one-day installation and a residential lifetime warranty.
Call us today and start with a free quote. Thinking of going with epoxy garage flooring? Below is a brief breakdown of why we decided to go with polyurea over epoxy.
Our product is perfect for residential or commercial garage flooring, auto shops, basements, driveways, pool decks, and anywhere else you have concrete. Protect your cement investment and provide additional safety and a brilliant look to your space. Some benefits of Garage Force concrete coating include:
One-day floor coating installation
Residential lifetime warranty
100% Polyurea eco-safe with LEED contribution (base and top coat)
Dust free installation, low odor, no VOC
Flexible and up to 20X more durable than epoxy.
Improved slip and impact resistance
Garage Force is the #1 choice for high-quality floor coatings and concrete refinishing for residential and commercial sites in all of Wisconsin.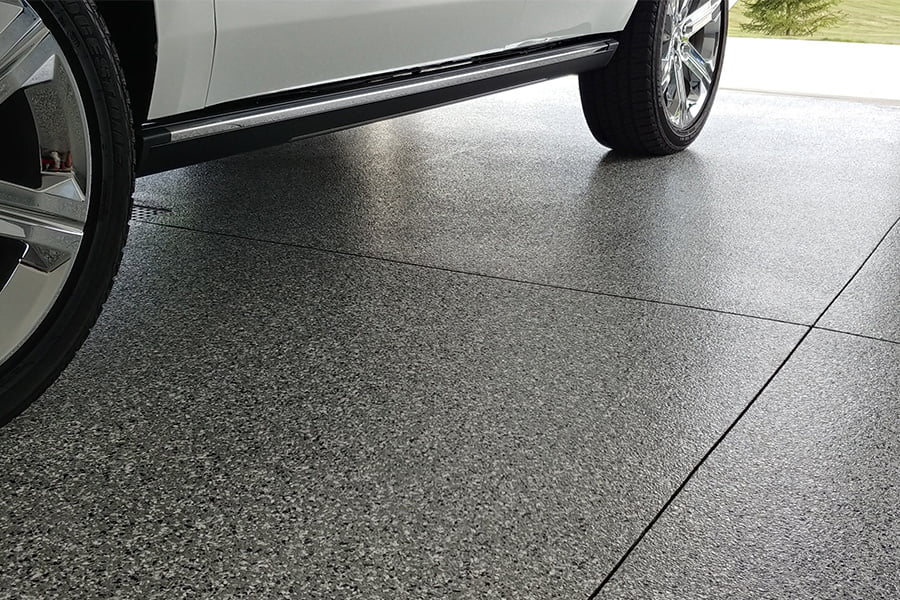 Garage Commercial Basement Patio Kitchen Salon The BEST
Floor Coating
Let's just talk garage floors for a minute.
A garage is a haven for many people. Whether you use it to store and protect your cars, perform handy work, or expand entertaining and activity space for your family, you want to make sure your garage is properly outfitted, maintained, and comfortable. One great way to do that is with our garage floor coatings. These polyurea coatings are like no other garage floor coating material you have seen before. Let us explain:
If you are looking for garage floor coatings, there is a good chance you did a google search for "epoxy". Historically, epoxy has been at the leading edge of garage floor coatings, but that is no longer the case. Nowadays, polyurea coatings are a much better option. Here at Garage Force, our polyurea garage floor coatings are about 20 times stronger than epoxy coatings. That is a huge difference in strength!
In addition to blowing epoxy's strength out of the water, polyurea floor coatings offer a whole host of other benefits:
P

Our floor coatings are resistant to damage from ultraviolet light. In contrast, epoxy coatings will yellow and fade after consistent exposure to sunlight.

P

With our floor coatings, a second layer is applied that resists moisture from getting into your concrete and causing damage.

P

Polyurea cures at an extremely fast rate, leaving less time for bubbles to form when the material hardens (a problem extremely common to epoxy coatings).

P

Our coatings provide a great-looking finish that also resists stains. In general, the material is also resistant to scrapes, extreme temperatures, and many forms of chemical corrosion.
In addition to these benefits, polyurea coatings have a much quicker installation time, making the process much easier on clients. This is because, as we mentioned earlier, our coatings cure (harden) extremely fast, and are complete within a span of 24 hours. In contrast, an epoxy garage floor coating generally takes three to four days to install. That is an extra two to three days for you to enjoy your new garage floor coating. Additionally, our coatings can be installed in temperatures anywhere between -30 degrees to 140 degrees Fahrenheit. That means except in extreme environments, you can have our coatings installed any time of the year. Epoxy, on the other hand, only has a very narrow temperature window that it can be installed in, making installation impossible except in spring and fall in many states.
If we haven't convinced you to consider one of our garage floor coatings so far, check out all of the customization options that we offer. If you are still on the fence, one of our friendly and knowledgeable representatives is available for your call. They will be happy to provide answers to any questions that you might need. 
The Polyurea Floor Coating Process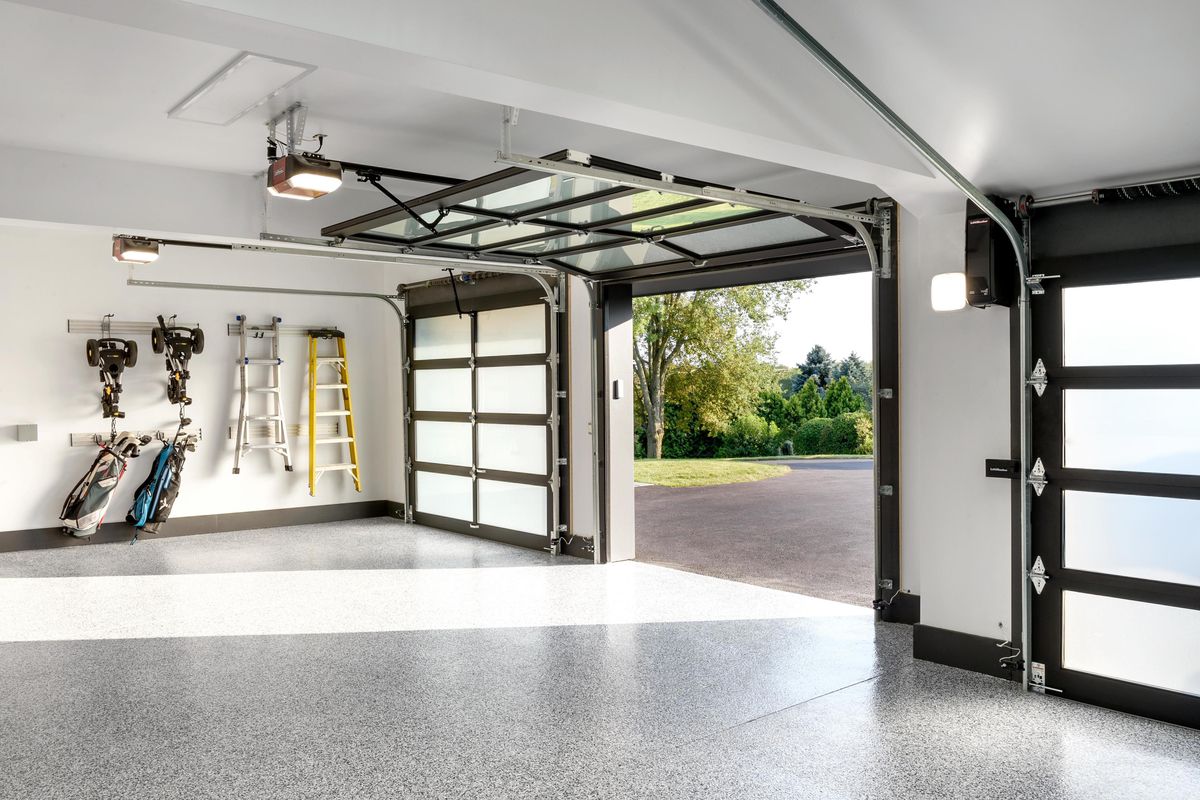 Step 1: Get Started
If you are ready to resurface your garage floor, patio, or any other concrete surface, call today for a free quote.
Step 2: Fast Floor Resurfacing
Our highly-trained team will come and apply two coats of polyurea coating to your surface. We can complete your job in as little as 24 hours.
Step 3: Enjoy Your Space
Our durable polyurea coating will protect your concrete surface from the elements, water damage, and fluids from your vehicle. Contact us today to begin.
Our Service Area
Garage Force is proud to serve all of Wisconsin, specifically in the following cities:
ABBOTSFORD
ABRAMS
ALBANY
ALGOMA
ALMA CENTER
ALTOONA
ANIWA
ARCADIA
ARENA
ARGYLE
ARPIN
ATHENS
AUBURNDALE
AUGUSTA
AVOCA
BAGLEY
BAILEYS HARBOR
BANGOR
BARABOO
BARNEVELD
BELLEVILLE
BIG BEND
BLACK EARTH
BLACK RIVER FALLS
BLAIR
BLANCHARDVILLE
BLOOMINGTON
BLUE MOUNDS
BLUE RIVER
BOSCOBEL
BOYD
BRISTOL
BROOKFIELD
BROOKLYN
BRUSSELS
BURLINGTON
CADOTT
CALEDONIA
CAMP DOUGLAS
CASCO
CASHTON
CASSVILLE
CAZENOVIA
CHASEBURG
CHIPPEWA FALLS
COBB
COLBY
COLEMAN
COON VALLEY
CROSS PLAINS
CUSTER
DANE
DE PERE
DE SOTO
DELAFIELD
DENMARK
DODGE
DODGEVILLE
DORCHESTER
DOUSMAN
EAST TROY
EASTMAN
EAU CLAIRE
EDGAR
EGG HARBOR
ELEVA
ELLISON BAY
ELM GROVE
ELROY
ETTRICK
EVANSVILLE
FAIRCHILD
FALL CREEK
FENNIMORE
FERRYVILLE
FISH CREEK
FORESTVILLE
FOUNTAIN CITY
FRANKLIN
FRANKSVILLE
GALESVILLE
GAYS MILLS
GENOA
GENOA CITY
GLEN HAVEN
GOTHAM
GREEN BAY
GREEN VALLEY
GREENDALE
HALES CORNERS
HARTLAND
HATLEY
HEWITT
HIGHLAND
HILLPOINT
HILLSBORO
HIXTON
HOLLANDALE
HOLMEN
HUMBIRD
INDEPENDENCE
JUNCTION CITY
KANSASVILLE
KENDALL
KEWAUNEE
KRAKOW
LA CROSSE
LA FARGE
LA VALLE
LAKE GENEVA
LANCASTER
LENA
LIME RIDGE
LINDEN
LITTLE SUAMICO
LIVINGSTON
LODI
LOGANVILLE
LONE ROCK
LUXEMBURG
MADISON
MARATHON
MARINETTE
MARSHFIELD
MAUSTON
MAZOMANIE
MEDFORD
MELROSE
MERRILL
MERRILLAN
MERRIMAC
MIDDLETON
MILLADORE
MILWAUKEE
MINDORO
MINERAL POINT
MONTFORT
MONTICELLO
MOSINEE
MOUNT HOPE
MOUNT HOREB
MOUNT STERLING
MUKWONAGO
MUSCODA
MUSKEGO
NASHOTAH
NEILLSVILLE
NEW BERLIN
NEW FRANKEN
NEW GLARUS
NEW LISBON
NORTH FREEDOM
NORTH PRAIRIE
NORWALK
OAK CREEK
OCONOMOWOC
OCONTO
OCONTO FALLS
OKAUCHEE
ONALASKA
ONEIDA
ONTARIO
OREGON
OSSEO
PATCH GROVE
PESHTIGO
PEWAUKEE
PLAIN
PLATTEVILLE
PLOVER
PORTAGE
POTOSI
POUND
PRAIRIE DU CHIEN
PRAIRIE DU SAC
PULASKI
READSTOWN
REEDSBURG
REWEY
RIB LAKE
RICHLAND CENTER
RIDGEWAY
RINGLE
ROCHESTER
ROCK SPRINGS
ROCKLAND
ROSHOLT
ROTHSCHILD
RUDOLPH
SALEM
SAUK CITY
SCHOFIELD
SENECA
SEYMOUR
SILVER LAKE
SISTER BAY
SOBIESKI
SOLDIERS GROVE
SPARTA
SPENCER
SPRING GREEN
STANLEY
STETSONVILLE
STEUBEN
STEVENS POINT
STITZER
STODDARD
STRATFORD
STRUM
STURGEON BAY
STURTEVANT
SUAMICO
SUSSEX
TAYLOR
THORP
TOMAH
TREMPEALEAU
TREVOR
TWIN LAKES
UNION GROVE
UNITY
VERONA
VESPER
VIOLA
VIROQUA
WALES
WASHINGTON ISLAND
WATERFORD
WAUKESHA
WAUNAKEE
WAUSAU
WAUZEKA
WEST SALEM
WESTBY
WHITEHALL
WILLARD
WILMOT
WILTON
WISCONSIN RAPIDS
WONEWOC
WOODMAN
upgrade today
get your free quote from Garage Force
GARAGE FORCE FLOORING IS A STEP ABOVE THE REST
Proudly serving Atlanta, GA with unprecedented service, exemplary workmanship, and products that stand out, we are proud to be the reason you love your garage floor. Discover what we have to offer by calling us for your free estimate now. STRONGER FINISH
Our polyurea floors are 20x stronger than epoxy. RESISTS YELLOWING
Our floors are 100% UV resistant, so they will never yellow. YEAR ROUND APPLICATION
The coating can be applied year-round, regardless of weather. CHEMICAL RESISTANT
Floors are completely resistant to all common chemicals, including calcium, salt, oil, gasoline and grease. CUSTOMIZE COLORS
Flooring options are available in a variety of styles and colors.