Invest in Your Space With Our Garage Floor Coating in Texas
Transform Your Garage or Basement With Our Garage Floor Coating.
GARAGE FORCE OF AUSTIN
GARAGE FORCE OF CORPUS CHRISTI
GARAGE FORCE DFW EAST
GARAGE FORCE DFW NORTH EAST
GARAGE FORCE DFW NORTH WEST
GARAGE FORCE OF HOUSTON NORTH EAST
GARAGE FORCE HILL COUNTRY
GARAGE FORCE OF KATY
GARAGE FORCE OF LEAGUE CITY
GARAGE FORCE OF METRO SOUTH HOUSTON
GARAGE FORCE OF MCALLEN
GARAGE FORCE OF MIDLAND
GARAGE FORCE OF NORTH AUSTIN
GARAGE FORCE OF NORTH CENTRAL HOUSTON
GARAGE FORCE SAN ANTONIO
GARAGE FORCE OF WACO
GARAGE FORCE OF SOUTH FORT WORTH
Protect Your Floors With Concrete Coating

At Garage Force, we've created a concrete floor coating that's 20 times more durable than garage epoxy. Epoxy floor coating is common, but it wears down and starts to flake very quickly.
Our polyurea floor coating provides you with numerous benefits. Some of the features you can enjoy with our floor coating include chemical resistance, UV protection, and more.
Contact us today to learn more about what we can do for your concrete floors in Texas.
Our product is perfect for residential or commercial garage flooring, auto shops, basements, driveways, pool decks, and anywhere else you have concrete. Protect your cement investment and provide additional safety and a brilliant look to your space. Some benefits of Garage Force concrete coating include:
One-day floor coating installation
Residential lifetime warranty
100% Polyurea eco-safe with LEED contribution (base and top coat)
Dust free installation, low odor, no VOC
Flexible and up to 20X more durable than epoxy.
Improved slip and impact resistance
Garage Force is the #1 choice for high-quality floor coatings and concrete refinishing for residential and commercial sites in all of Texas.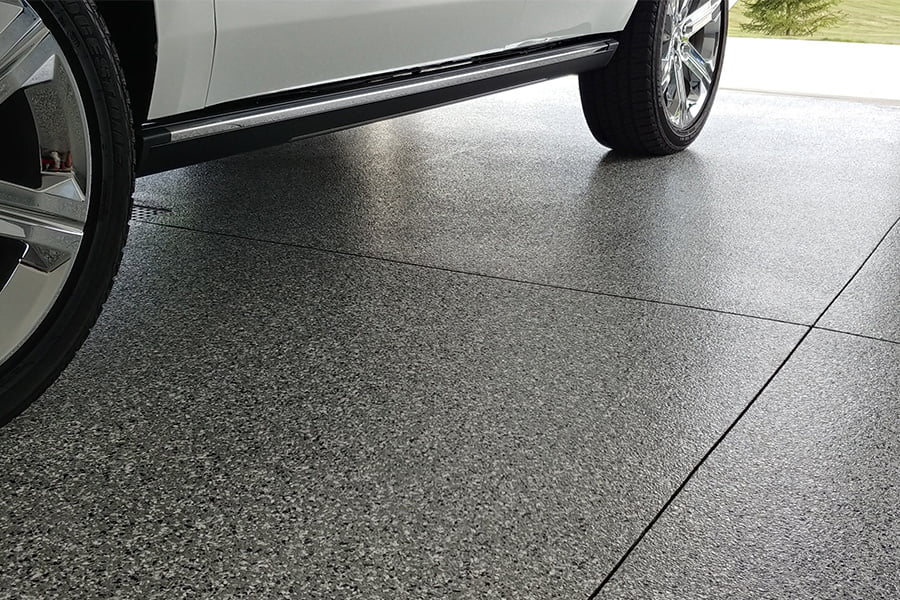 Garage Commercial Basement Patio Kitchen Salon The BEST
Floor Coating
Let's just talk garage floors for a minute.
A garage is a haven for many people. Whether you use it to store and protect your cars, perform handy work, or expand entertaining and activity space for your family, you want to make sure your garage is properly outfitted, maintained, and comfortable. One great way to do that is with our garage floor coatings. These polyurea coatings are like no other garage floor coating material you have seen before. Let us explain:
If you are looking for garage floor coatings, there is a good chance you did a google search for "epoxy". Historically, epoxy has been at the leading edge of garage floor coatings, but that is no longer the case. Nowadays, polyurea coatings are a much better option. Here at Garage Force, our patented polyurea garage floor coatings are about 20 times stronger than epoxy coatings. That is a huge difference in strength!
In addition to blowing epoxy's strength out of the water, polyurea floor coatings offer a whole host of other benefits:
P

Our floor coatings are resistant to damage from ultraviolet light. In contrast, epoxy coatings will yellow and fade after consistent exposure to sunlight.

P

With our floor coatings, a second layer is applied that resists moisture from getting into your concrete and causing damage.

P

Polyurea cures at an extremely fast rate, leaving less time for bubbles to form when the material hardens (a problem extremely common to epoxy coatings).

P

Our coatings provide a great-looking finish that also resists stains. In general, the material is also resistant to scrapes, extreme temperatures, and many forms of chemical corrosion.
In addition to these benefits, polyurea coatings have a much quicker installation time, making the process much easier on clients. This is because, as we mentioned earlier, our coatings cure (harden) extremely fast, and are complete within a span of 24 hours. In contrast, an epoxy garage floor coating generally takes three to four days to install. That is an extra two to three days for you to enjoy your new garage floor coating. Additionally, our coatings can be installed in temperatures anywhere between -30 degrees to 140 degrees Fahrenheit. That means except in extreme environments, you can have our coatings installed any time of the year. Epoxy, on the other hand, only has a very narrow temperature window that it can be installed in, making installation impossible except in spring and fall in many states.
If we haven't convinced you to consider one of our garage floor coatings so far, check out all of the customization options that we offer. If you are still on the fence, one of our friendly and knowledgeable representatives is available for your call. They will be happy to provide answers to any questions that you might need.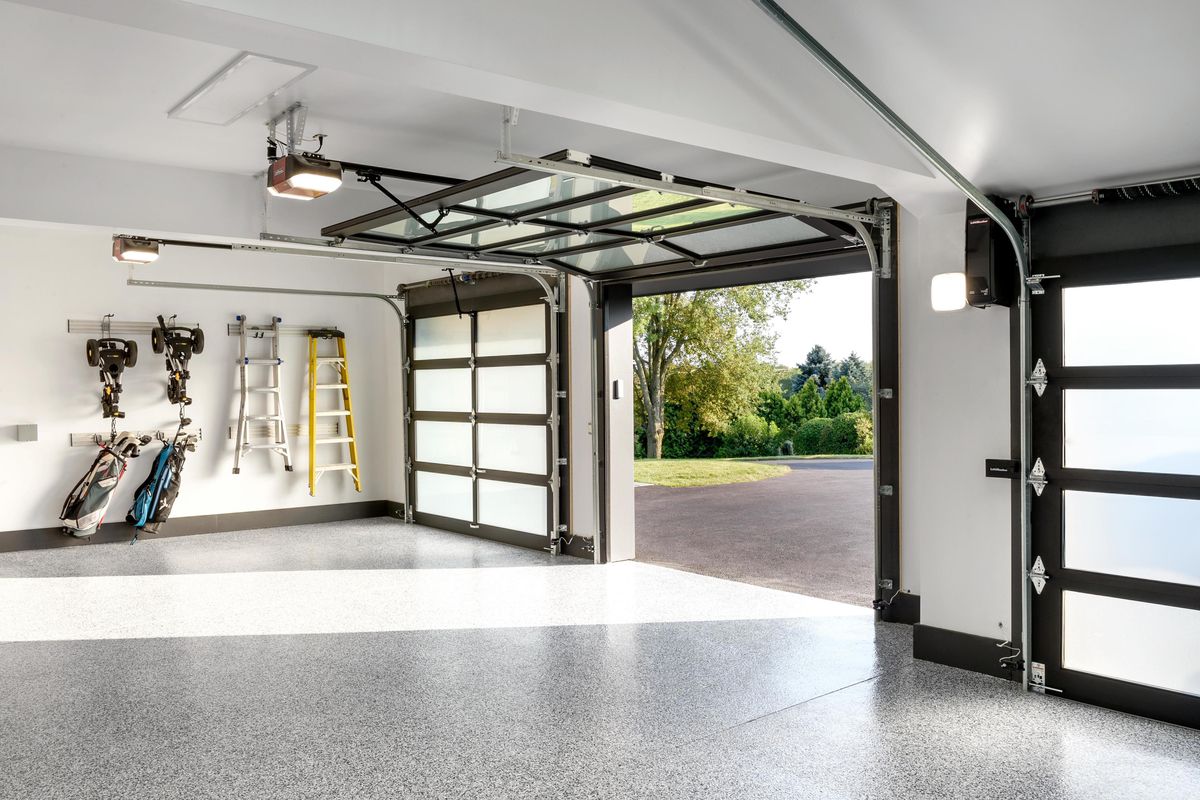 Step One: Speak With Our Sales Associates
Use our location page to find a location in Texas near you. You can also call us at 1-855-436-7230.
Step Two: Explore Our Concrete Floor Coating Options
There are multiple styles and colors you can choose from when you partner with Garage Force. Customize your floor with various systems, such as Medici, metallic, and quartz. 
Step Three: Enjoy Durable Flooring
Our polyurea floor coating will increase the value and appearance of your concrete floors. 
Our Service Area
Garage Force is proud to serve all of Texas, specifically in the following cities:
ABBOTT
ACKERLY
ADDISON
ADKINS
AGUA DULCE
ALAMO
ALICE
ALLEN
ANDREWS
ANNA
AQUILLA
ARANSAS PASS
ARGYLE
ART
ATASCOSA
AUBREY
AUSTIN
AXTELL
BACLIFF
BANDERA
BAYTOWN
BEDFORD
BELLAIRE
BERGHEIM
BIG SPRING
BISHOP
BLANCO
BLUFFTON
BOERNE
BROOKSHIRE
BRUCEVILLE
BUCHANAN DAM
BUDA
BULVERDE
BURLESON
BURNET
BYNUM
CADDO MILLS
CANYON LAKE
CARROLLTON
CASTELL
CASTROVILLE
CEDAR PARK
CELINA
CENTER POINT
CHANNELVIEW
CHILTON
CHINA SPRING
CIBOLO
CLEBURNE
CLIFTON
COAHOMA
COLLEYVILLE
COMBES
COMFORT
CONROE
CONVERSE
COOLIDGE
COPPELL
CORPUS CHRISTI
CRANE
CRAWFORD
CROSBY
CROWLEY
CYPRESS
DALLAS
DAYTON
DENTON
DEVINE
DICKINSON
DONNA
DOSS
DRIFTWOOD
DRIPPING SPRINGS
DRISCOLL
EDCOUCH
EDDY
EDINBURG
ELM MOTT
ELSA
EULESS
FISCHER
FLOWER MOUND
FORNEY
FORSAN
FORT WORTH
FREDERICKSBURG
FRESNO
FRIENDSWOOD
FRISCO
FULSHEAR
GAIL
GALVESTON
GARDEN CITY
GARDENDALE
GARLAND
GEORGETOWN
GOLDSMITH
GRAPEVINE
GREENVILLE
GREGORY
GUNTER
HALTOM CITY
HARLINGEN
HARPER
HASLET
HELOTES
HEWITT
HIDALGO
HIGHLANDS
HILLSBORO
HITCHCOCK
HONDO
HORSESHOE BAY
HOUSTON
HUBBARD
HUFFMAN
HUMBLE
HURST
HYE
INGLESIDE
INGRAM
IRVING
JBSA FT SAM HOUSTON
JBSA LACKLAND
JBSA RANDOLPH
JOHNSON CITY
JOSHUA
JUNCTION
JUSTIN
KATY
KEENE
KELLER
KEMAH
KENDALIA
KERMIT
KERRVILLE
KINGSLAND
KINGWOOD
KNOTT
KYLE
LA BLANCA
LA COSTE
LA FERIA
LA JOYA
LA MARQUE
LA VERNIA
LA VILLA
LAKE DALLAS
LAVON
LEAGUE CITY
LEANDER
LENORAH
LEWISVILLE
LIBERTY HILL
LITTLE ELM
LLANO
LONDON
LORENA
LOS INDIOS
LOTT
LYFORD
LYTLE
MALONE
MANCHACA
MANSFIELD
MANVEL
MARBLE FALLS
MARION
MARLIN
MART
MASON
MATHIS
MC GREGOR
MC QUEENEY
MCALLEN
MCKINNEY
MELISSA
MERCEDES
MERIDIAN
MESQUITE
MICO
MIDKIFF
MIDLAND
MISSION
MISSOURI CITY
MOODY
MOUNT CALM
MOUNTAIN HOME
NATALIA
NEVADA
NEW BRAUNFELS
NORTH RICHLAND HILLS
ODEM
ODESSA
OGLESBY
ORANGE GROVE
PASADENA
PATTISON
PEARLAND
PENELOPE
PENITAS
PFLUGERVILLE
PHARR
PILOT POINT
PIPE CREEK
PLANO
PORT ARANSAS
PORTER
PORTLAND
PRAIRIE HILL
PROSPER
RANKIN
REAGAN
RICHARDSON
RICHMOND
RIESEL
RIO MEDINA
ROANOKE
ROBSTOWN
ROCKWALL
ROSEBUD
ROSHARON
ROUND MOUNTAIN
ROUND ROCK
ROWLETT
ROYSE CITY
SACHSE
SAINT HEDWIG
SAN ANTONIO
SAN BENITO
SAN JUAN
SAN MARCOS
SANDIA
SANTA FE
SANTA ROSA
SATIN
SCHERTZ
SEABROOK
SEGUIN
SINTON
SKIDMORE
SOUTHLAKE
SPICEWOOD
SPRING
SPRING BRANCH
STAFFORD
STANTON
STOCKDALE
STONEWALL
SUGAR LAND
SUNNYVALE
SUTHERLAND SPRINGS
TAFT
TARZAN
TEMPLE
TERRELL
TEXAS CITY
THE COLONY
TOMBALL
TOW
TROY
TYNAN
UNIVERSAL CITY
VALLEY MILLS
VAN ALSTYNE
VON ORMY
WACO
WEBSTER
WESLACO
WEST
WHITNEY
WILLOW CITY
WIMBERLEY
WINK
WOODWAY
WYLIE
upgrade today
get your free quote from Garage Force
GARAGE FORCE FLOORING IS A STEP ABOVE THE REST
Proudly serving Atlanta, GA with unprecedented service, exemplary workmanship, and products that stand out, we are proud to be the reason you love your garage floor. Discover what we have to offer by calling us for your free estimate now. STRONGER FINISH
Our polyurea floors are 20x stronger than epoxy. RESISTS YELLOWING
Our floors are 100% UV resistant, so they will never yellow. YEAR ROUND APPLICATION
The coating can be applied year-round, regardless of weather. CHEMICAL RESISTANT
Floors are completely resistant to all common chemicals, including calcium, salt, oil, gasoline and grease. CUSTOMIZE COLORS
Flooring options are available in a variety of styles and colors.