Polyurea & Polyaspartic
High Quality Garage Floor Coating
Protecting your floor and maintaining its quality with polyurea and polyaspartic coatings.
Garage Floor Coating Epoxy Alternatives
Garage Force uses innovative and efficient garage floor coatings to protect your garage floor. Polyaspartic coatings provide a durable, long-lasting, scratch-resistant, and chemical-resistant finish that won't turn yellow or fade due to exposure to the sun's UV rays. The fast application process with polyurea means you can enjoy your new garage floor within 24 hours!
We proudly offer our clients a hassle-free experience, superior workmanship, and outstanding products. Our representatives will gladly assist you with any questions or concerns and provide you with a free estimate. Contact us today for your free estimate and get the garage floor of your dreams!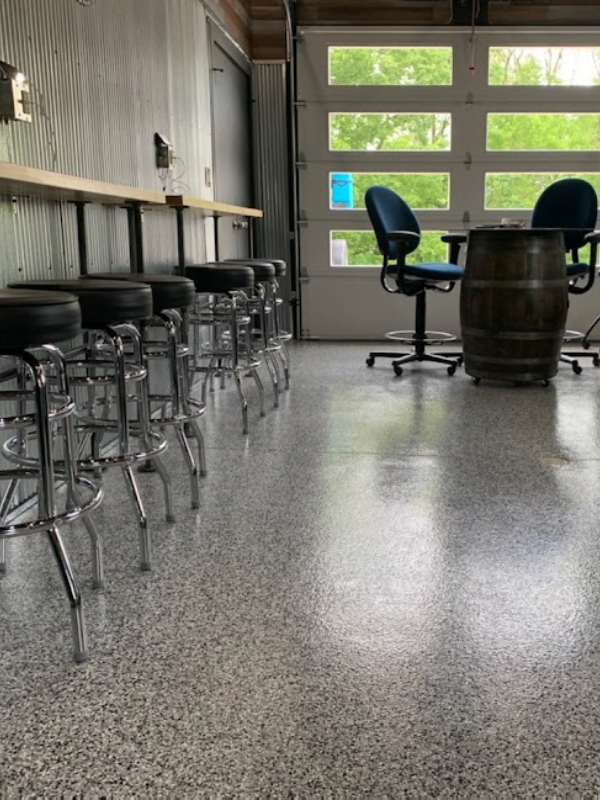 Our Garage Force Services
At Garage Force, we offer a wide range of services to protect and enhance your floors. And it's much more than just garages! We can handle your project – patios, storage areas, kitchens, bathrooms, basements, rec rooms, commercial spaces, and more. Our team is dedicated to providing you with the best possible results in the shortest amount of time. We use only top-of-the-line polyurea and polyaspartic products that provide long-lasting protection against damage and daily wear and tear. Whether you're looking to upgrade the appearance of your floor or protect your investment, Garage Force can help!
20x stronger than epoxy
Polyurea is up to 20 times stronger than epoxy, and its superior strength offers unbeatable protection for your garage floor.
100% UV resistant
Our polyaspartic coatings are resistant to ultraviolet rays so your floor wont' fade or yellow over time. 
Custom colors
Our flooring options come in various styles and colors to customize your garage to your desired aesthetic. You can choose the perfect look for your space.
Durable and Resistant
Our polyurea and polyaspartic floor coatings are so tough they're resistant to common chemicals, including calcium, salt, oil, gasoline, and grease.
Year-Round Installation
Garage Force concrete floor coatings can be installed year-round regardless of weather conditions.
1-Day Installation
Quick return to service so you're back on your floor in 24 hours instead of 2-3 days with epoxy coatings.
Garage Force Floor Process & How It Works
Step One: SURFACE Preparation
We take great care to ensure your garage floor is prepped and ready before we begin the installation process. This includes removing an existing coating, grinding the surface, shot-blasting the concrete, and patching any cracks or imperfections.
Step Two: Dust Mitigation
Once the floor is adequately prepared, we use specialized vacuums to remove contaminants and dust prior to ensuring maximum adhesion of coatings to the concrete.
Step Three: Coating System Application
Now that the floor is prepped and clean, we can apply our polyurea basecoast. Using the polyurea as the foundation of your floor system is key for long lasting adhesion and flexibility.  The decorative layer is applied next to bring in the colors and beauty of the floor system.  We lock that in with our polyaspartic top coat designed to give a sleek finish with the ultimate UV protection.
Our Pricing
We offer competitive prices with quality that can't be beaten.
Each floor is unique, so our pricing is tailored to meet the needs of your project.  
Contact the Garage Force Team Today
Contact your local Garage Force team today if you're ready to take the next step in improving and protecting your floor. We will provide you with a free custom estimate and answer any questions you have about our polyurea and polyaspartic coatings and services.