Protect Your Floors With Montana Garage Floor Coating
Makeover Your Space With High-Quality Garage Floor Coating.
GARAGE FORCE OF BIG SKY COUNTRY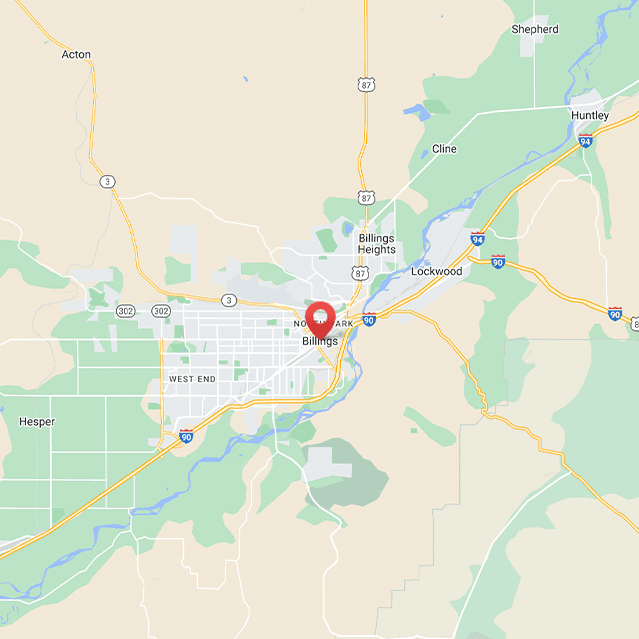 GARAGE FORCE OF BIG SKY COUNTRY
120 Guadeloupe Dr.
Billings, MT  59101
Improve Curb Appeal by Coating Your Garage Floor

Have a dilapidated garage floor that is bringing down the look of your home? Invest in garage concrete floor coating from the experts at Garage Force. We provide high-grade polyurea coating with LEED contribution.
Our floors come with a lifetime residential warranty and also feature improved slip and impact resistance. If you are ready to take your home to the next level with a new polyurea coat on your garage door, contact our team to take the first step toward installation.
Contact us for a quote on same-day coating today!
Our product is perfect for residential or commercial garage flooring, auto shops, basements, driveways, pool decks, and anywhere else you have concrete. Protect your cement investment and provide additional safety and a brilliant look to your space. Some benefits of Garage Force concrete coating include:
One-day floor coating installation
Residential lifetime warranty
100% Polyurea eco-safe with LEED contribution (base and top coat)
Dust free installation, low odor, no VOC
Flexible and up to 20X more durable than epoxy.
Improved slip and impact resistance
Garage Force is the #1 choice for high-quality floor coatings and concrete refinishing for residential and commercial sites in all of Montana.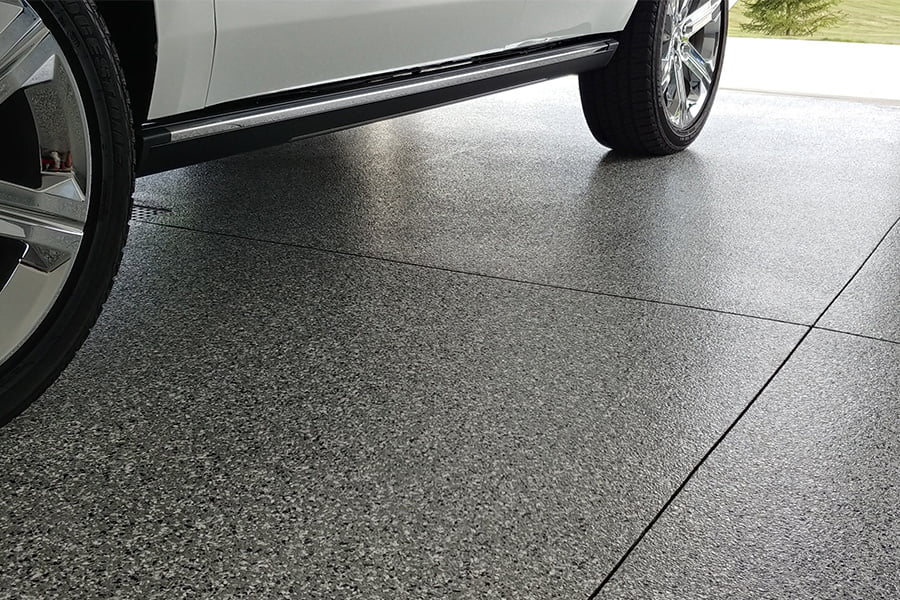 Garage Commercial Basement Patio Kitchen Salon The BEST
Floor Coating
Let's just talk garage floors for a minute.
A garage is a haven for many people. Whether you use it to store and protect your cars, perform handy work, or expand entertaining and activity space for your family, you want to make sure your garage is properly outfitted, maintained, and comfortable. One great way to do that is with our garage floor coatings. These polyurea coatings are like no other garage floor coating material you have seen before. Let us explain:
If you are looking for garage floor coatings, there is a good chance you did a google search for "epoxy". Historically, epoxy has been at the leading edge of garage floor coatings, but that is no longer the case. Nowadays, polyurea coatings are a much better option. Here at Garage Force, our patented polyurea garage floor coatings are about 20 times stronger than epoxy coatings. That is a huge difference in strength!
In addition to blowing epoxy's strength out of the water, polyurea floor coatings offer a whole host of other benefits:
P

Our floor coatings are resistant to damage from ultraviolet light. In contrast, epoxy coatings will yellow and fade after consistent exposure to sunlight.

P

With our floor coatings, a second layer is applied that resists moisture from getting into your concrete and causing damage.

P

Polyurea cures at an extremely fast rate, leaving less time for bubbles to form when the material hardens (a problem extremely common to epoxy coatings).

P

Our coatings provide a great-looking finish that also resists stains. In general, the material is also resistant to scrapes, extreme temperatures, and many forms of chemical corrosion.
In addition to these benefits, polyurea coatings have a much quicker installation time, making the process much easier on clients. This is because, as we mentioned earlier, our coatings cure (harden) extremely fast, and are complete within a span of 24 hours. In contrast, an epoxy garage floor coating generally takes three to four days to install. That is an extra two to three days for you to enjoy your new garage floor coating. Additionally, our coatings can be installed in temperatures anywhere between -30 degrees to 140 degrees Fahrenheit. That means except in extreme environments, you can have our coatings installed any time of the year. Epoxy, on the other hand, only has a very narrow temperature window that it can be installed in, making installation impossible except in spring and fall in many states.
If we haven't convinced you to consider one of our garage floor coatings so far, check out all of the customization options that we offer. If you are still on the fence, one of our friendly and knowledgeable representatives is available for your call. They will be happy to provide answers to any questions that you might need.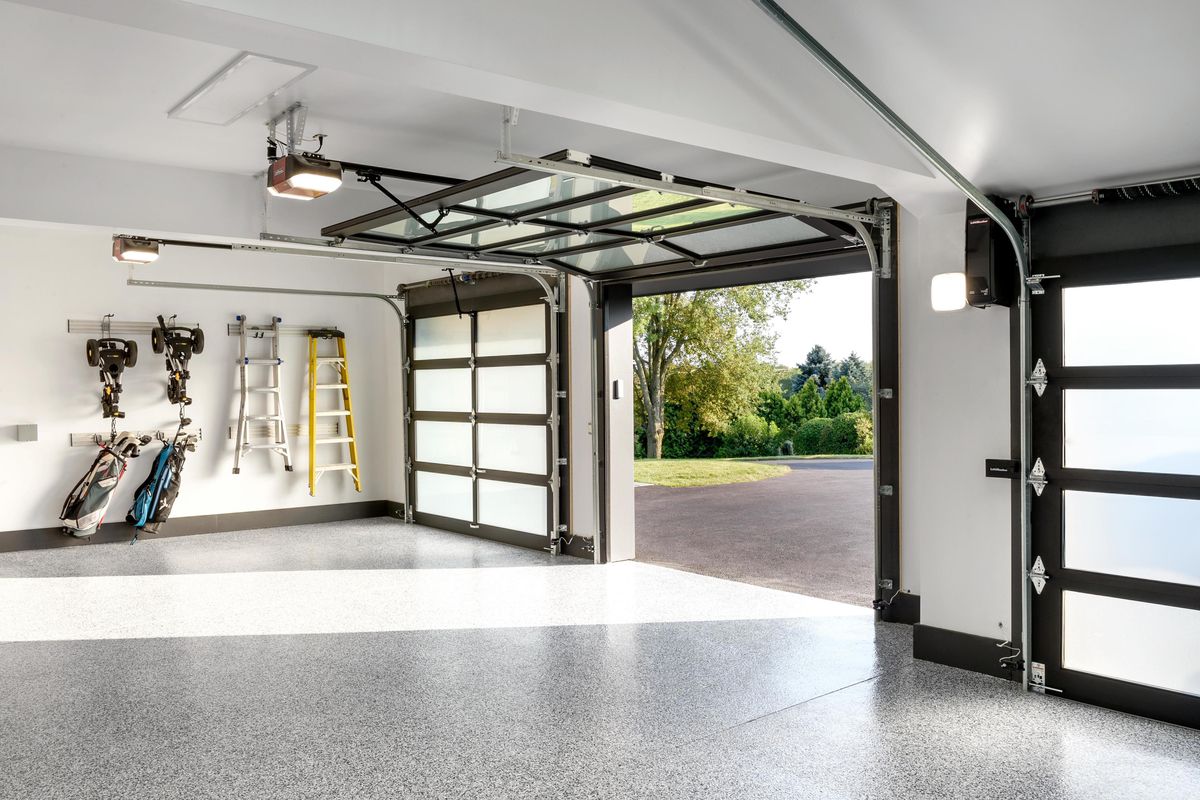 Step One: Contact Us
Call us at 1-855-436-7230 to connect with our Montana office. 
Step Two: Pick Your Flooring
Polyurea floor coating doesn't come in boring options. You can choose from various colors, styles, and sheens. 
Step Three: Love Your Floors
Your garage will be the talk of the town when you partner with Garage Force for concrete floor resurfacing. 
upgrade today
get your free quote from Garage Force
Our Service Area
Garage Force is proud to serve all of Montana, specifically in the following cities:
ABSAROKEE
ACTON
ALBERTON
ANACONDA
ARLEE
AVON
BALLANTINE
BASIN
BEARCREEK
BELFRY
BELGRADE
BIG SKY
BIG TIMBER
BILLINGS
BONNER
BOULDER
BOYD
BOZEMAN
BRIDGER
BROADVIEW
BUTTE
CANYON CREEK
CARDWELL
CLANCY
CLINTON
CLYDE PARK
COLUMBUS
COOKE CITY
CORVALLIS
DEER LODGE
DIVIDE
DRUMMOND
EAST HELENA
EDGAR
ELLISTON
EMIGRANT
FISHTAIL
FLORENCE
FORT HARRISON
FORT SMITH
FRENCHTOWN
FROMBERG
GALLATIN GATEWAY
GARDINER
GARRISON
GOLD CREEK
GREYCLIFF
HALL
HARRISON
HELENA
HELMVILLE
HUNTLEY
HUSON
JEFFERSON CITY
JOLIET
LAUREL
LINCOLN
LIVINGSTON
LOLO
MANHATTAN
MARYSVILLE
MC ALLISTER
MC LEOD
MELVILLE
MISSOULA
MOLT
NORRIS
NYE
OVANDO
PARK CITY
PHILIPSBURG
POMPEYS PILLAR
PONY
PRAY
PRYOR
RADERSBURG
RAMSAY
RAPELJE
RED LODGE
REED POINT
ROBERTS
ROSCOE
SAINT IGNATIUS
SAINT XAVIER
SEELEY LAKE
SHEPHERD
SILVER GATE
SILVER STAR
SPRINGDALE
STEVENSVILLE
THREE FORKS
TOSTON
TOWNSEND
VICTOR
WARM SPRINGS
WHITEHALL
WILLOW CREEK
WILSALL
WINSTON
WISE RIVER
WORDEN
GARAGE FORCE FLOORING IS A STEP ABOVE THE REST
Proudly serving Atlanta, GA with unprecedented service, exemplary workmanship, and products that stand out, we are proud to be the reason you love your garage floor. Discover what we have to offer by calling us for your free estimate now. STRONGER FINISH
Our polyurea floors are 20x stronger than epoxy. RESISTS YELLOWING
Our floors are 100% UV resistant, so they will never yellow. YEAR ROUND APPLICATION
The coating can be applied year-round, regardless of weather. CHEMICAL RESISTANT
Floors are completely resistant to all common chemicals, including calcium, salt, oil, gasoline and grease. CUSTOMIZE COLORS
Flooring options are available in a variety of styles and colors.